Improvised Music from Japan / Discography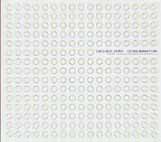 Ground-Zero
Consummation
(Project: Consume/ Consuming Ground-Zero, Vol. 3)
(Sank-ohso Discs/Creativeman Disc., CMDD-00048) (Japan) (CD)

---
Aligator (1:28)
Hijack (3:50)
Source Mend (Intro) (1:00)
Entropy (3:30)
Story of a Wilderness 1 (4:25)
Story of a Wilderness 2 (2:38)
Wig (1:00)
Cue Con Soni (3:11)
1000000 Won (2:05)
Restructuring Nation (3:03)
Consume Red (Cyber Electro Mix) (7:00)
Suk Chul-Tone (3:00)
Read Consume Red (5:59)
Conglutination/Retardation II (6:40)
---
Consummation contains remixes of Consume Red and Conflagration.
D.J. Smallcock/ Darlinghurst, Australia
Matmos/ San Francisco, USA
Xonk/ Melbourne, Australia
Masahiro Uemura/ Saitama, Japan
Asao Kikuchi/ Hachijojima, Japan
Asao Kikuchi/ Hachijojima, Japan
Stomach Oh-yeah/ Kagawa, Japan
Aerospace Soundwise/ Chicago, USA
@/ Sendai and Tokyo, Japan, and Hong Kong, China
Slip Master D.O.T./ Tokyo, Japan
Rom=Pari/ Yokohama, Japan
Art Karaoke/ Tokyo, Japan
Yang-sane/ Chiba, Japan
Multer/ Dortmund, Germany
Produced by Consent-Chan (Sachiko Matsubara and Haruna Ito)
Basic idea by Shigenori Noda
Mastered by Yoshiaki Kondo at Kojima Recording Inc., Tokyo, January 21, 1998
Deisign by Himitsu Hakase
Vol. 3 sleeve design is also a sampling and remix of Vols. 1 and 2.
Includes liner notes by Otomo Yoshihide in Japanese
Released in April 1998
---