Improvised Music from Japan / IMJ
Bon Voyage!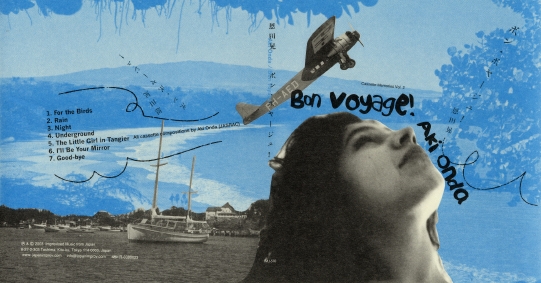 Improvised Music from Japan, IMJ-510
Released in October 2003
Purchase price in Japan: 2,000 yen (tax not included)
(For purchase outside of Japan, prices vary.)
All cassette compositions by Aki Onda
Cassette recordings made in New York - Rio de Janeiro - Salvador - Tokyo - Paris - Tangier - Valencia - Lisbon - London.... between 1988 and 2002
Edited at The Bregman Electro-Acoustic Music Studio, Dartmouth College, New Hampshire, in 2002
Mastered by Aki Onda and Toshimaru Nakamura
Packaged in a cardboard jacket
Artwork by Akira Sasaki
---
For the Birds (8:32)
Rain (6:18)
Night (4:25)
Underground (4:22)
The Little Girl in Tangier (4:43)
I'll Be Your Mirror (6:42)
Good-bye (10:16)
Aki Onda's many activities since the nineties have included participating in the group Audio Sports, with Eye Yamatsuka and Nobukazu Takemura, and releasing albums under his own name, as well as producing recordings by numerous musicians in Japan and other countries. For three years beginning in 2000, Onda was a composer in residence at Dartmouth College (in New Hampshire). He recently shifted his base of activity to New York, where he is working with cassette recorders and electronics to create highly abstract, original works of music.
To make this album, Onda spent two years editing a huge collection of field recordings that he'd amassed over a 14-year period (between 1988 and 2002), randomly taping sounds in locations around the world. To Onda, this is both a document and a memory of a personal journey. Various sounds--a city's hustle and bustle, the chirping of birds, music being played, children's voices--are layered one atop another. Except for the last track, there is little in the way of what would normally be called a "work of music." On the other hand, no work digs so painfully deeply into the interior of the artist Onda. Seven tracks in all.
---
---
Last updated: November 2, 2003
---